About Kevin Kopil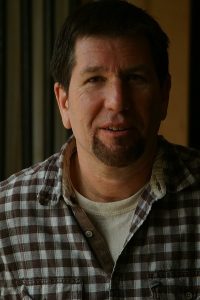 For Kevin Kopil, the furniture designer, its all about the wood. His expertly crafted tables, benches, beds, bookcases, cabinets, desks and seating, evoke the Arts and Crafts period, yet are undeniably modern. Kopil plays off the deliberate spareness of the earlier style in order to let the beauty and poetry of the wood grain take center stage. These are luxuriously opulent, tactile pieces that, due to their graceful silhouettes, do not overpower.
The designer first picked up his hammer as a ten-year old, working alongside his father in their basement wood shop in Carteret, New Jersey. He studied electronics in college but took some time off to apprentice to master craftsman Laurie Smith in rural Vermont. It was his formal education in wood construction, and shortly afterward he dropped electronics and transferred to the University of Vermont to study architectural design. A second apprenticeship, with craftsman Mark Pedley, readied Kopil to open his own studio in 1988. He offered built-ins and architectural woodworking, and in 1991 introduced his first collection of furniture, the Classics. It was Shaker and Danish influenced, though with curved tapered lines.
Galleries in Chicago, Maryland, Delaware and Connecticut began to showcase his work and Kopil steadily built a clientele for his handcrafted pieces. He continued to interpret 19th century styles through a modern sensibility. His second series, Floating World, debuted in 1992. It had references to Frank Lloyd Wright, Stickley and traditional Japanese architecture, but its color contrasts of natural cherry accented by ebonized walnut brought it up- to the present. This was followed by Glasgow, in 1997, a group of beds, dressers and night tables that paid homage to Mackintosh. At the time he also opened a gallery in TriBeCa in 2002.
Mei Mei is his newest collection, a hybrid of modern and Asian styles. The designer had traveled in China and was enamored both of the architecture and the calligraphy. Mei Mei means little sister and is his daughter's nickname. The collection, and Hall table, coffee table, bench, step chest, dining table and chairs, blends ebonized ash and Australian lacewood.
Kopil's work is sold through fine craft galleries on the east coast and in Chicago. His design studio is based in Doylestown, Pennsylvania, where he resides with his wife Marybeth and daughter Kayli.